February 02, 2009
THE REVOLUTION is back !!!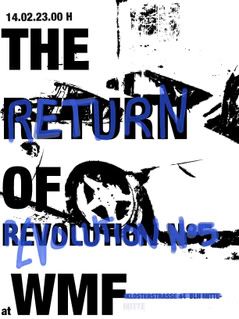 Posted by jay-oh at 06:55 PM | Comments (0)
August 19, 2008
BEAT DIS!
YES PEEPZ, THIS TIME WE'RE DOING IT TOGETHER WITH OUR FRIENDS
FROM DA BEATPROVIDERS. BIG TINGS ARE GWAN!
DON'T BE TOO LATE: MOTHERLAND (check'em out, young, foolish and brandnew!!) WILL PLAY AT 1.30h AND LUCA THE MAGNIFICENT AKA DROP THE LIME IS ON AT 2.00h!!
love
sg

REVOLUTION N°5 meets DRY GUILLOTINE
SCALA / FRIDAY 22.08.08 / 23h
1st
DROP THE LIME live! (trouble&bass/nyc)
MOWGLI (southern fried/ldn)
HALF GIRL/HALF SICK (sick girls, violent turd/bln)
SLY 1 (birthday party, beatproviders/bln)
2nd
MOTHERLAND live! (bln)
FEMALE MACHO (opp36/bln)
DENA FROM THE BLOCK (bln)
LIL'JEAN (bpc
JARCO WEISS (f-k-u)
EM//E (tilt)

beatproviders
drop the lime
mowgli
sick girls
motherland
female macho
dena from the block
scala berlin
Posted by ad at 10:03 AM | Comments (0)
July 17, 2008
BOOM
SPLASH!
DAMN THAT WAS A FESTIVAL.
thanks to all our incredible artists, you´ve made our revolution no 5 stage the best festival stage in the world. that is from our perspective.
here´s a couple pics from the DIZZEE SHOW, for all who missed it, standing outside the tent singing along the lyrics, you missed him in his underwear:
on stage




hype the crowd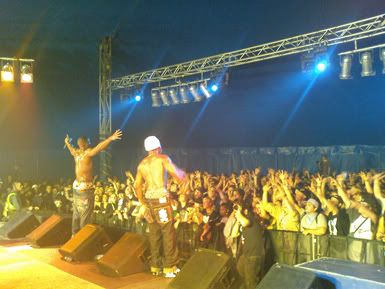 sing along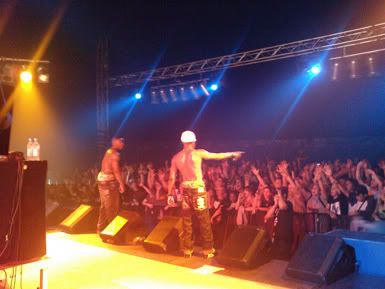 bodylanguage
>


after the show in private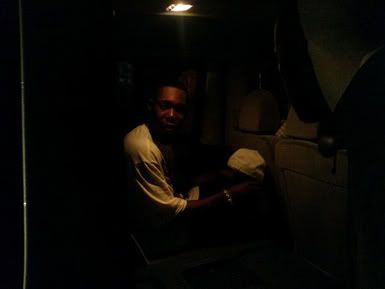 and one more cool Dizzee pic - this time from our friend female macho:
Posted by jay-oh at 02:25 PM | Comments (0)
September 17, 2007
THURSDAY IS FOR WINNERS!
YOYO - WE WANT YOU TO WIN!
KANO WILL PLAY LIVE ON THURSDAY FOR OUR HUGE
INRO INTIM - REVOLUTION N°5 - GRIMETIME NIGHT.
AND THAT'S WHY WE GOT SOME GOODIES FOR YOU:
2 X LONDON TOWN ALBUM CD
3 X THIS IS THE GIRL 12" VINYL
2 X 2 FREE ENTRY TO FESTSAAL ON THE 20TH!
JUST ANSWER THIS QUESTION:
WHO COULD BE THE SECRET GUEST STAR WHO WILL PERFORM
WITH KANO ON THURDSDAY? A LIL' HINT:
BO SELECTA!
MAIL YOUR ANSWER AND YOUR GIFT CHOICE TO: adbiz@sickgirls.de
and don't forget:
BLITZ 'N ASS
JAHCOOZI ALBUM RELEASE
&
KANO - LONDON TOWN SHOWCASE
DONNERSTAG 20.09.07
FESTSAAL KREUZBERG
23h
präsentiert von
INTRO INTIM & REVOLUTION N°5 & GRIMETIME
featuring:
JAHCOOZI live (a sound / bln)
KANO live (679 rec. warner / ldn)
SICK GIRLS (violent turd, rev. n°5 / bln)
FAGGATRONIX (bok bok / ldn)
+ special GRIMETIME floor:
DJ DOWNSHISFTER (skud, hyponik / ldn)
& MC NIKA D (virus syndicate, planet mu / manchester)
DJ EARGEL (rap.de / bln)
Festsaal Kreuzberg, Skalitzer Str. 130, BLN-Kreuzberg
myspaces:
jahcoozi
kano
sickgirls
faggatronix
dj downshifter
mc nika d
presented by: rap.de

Posted by ad at 09:57 AM | Comments (0)
August 29, 2007
SNEAK!
Posted by jay-oh at 05:25 PM | Comments (0)
May 24, 2007
Revolute
"Ladies, what we´d like you to do is
see the devil come out from inside of you"
either tonight at Cookies with Princess Superstar
and your girls´sickness. sissystyle.
or tomorrow
at our own Mini Revolution ready to turn the festsaal basement
into rave hell with lovely guests and cameos. there´s an outside bar as well, if you fear it might get too hot for your socks.
if you´re a real raver just drop in both and show us your
glowsticks.

25.05. Festsaal Kreuzberg Basement - starting at midnight
A REVOLUTION FOR THOSE WHO KNOW
ROBOT KOCH (jahcoozi, the tape)
SICK GIRLS (revolution no 5)
and friends
bring your megaphone and better be early.
festsaal kreuzberg is on skalitzer strasse 130. u bahn kottbusser tor
Posted by jay-oh at 04:22 PM | Comments (0)
April 12, 2007
BRING 4TH YA BOOTY!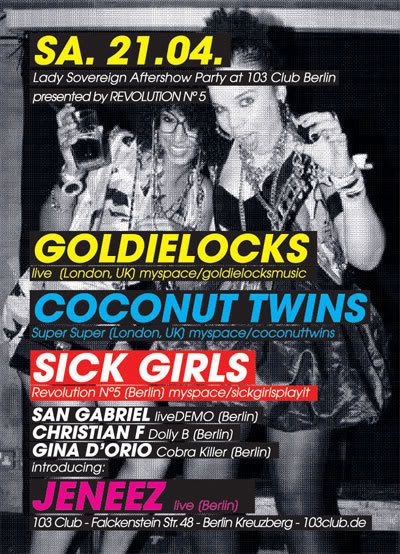 Posted by ad at 10:46 AM | Comments (0)
March 05, 2007
REVOLUTION PICS ALERT!
thank you so much for sending in some pics:
big up to the lovely ALIA and the great GERMAN WASTEMAN!
the berlin wall.


chain twins massacre.


teens of thailand mixery.


looove.


hail the coconut twins.


our beautyful crowd.

Posted by ad at 12:41 PM | Comments (0)
February 27, 2007
SHABBA!
THANK YOU SO MUCH EVERYBODY FOR SHOWING UP AT THE REVOLUTION
ON SATURDAY!!!
YOU ALL MADE IT A GREAT PARTY - WE'RE STILL TOTALLY FLASHED!
whoever made some nice pics and would like to donate them please
send to adbiz@sickgirls.de
Posted by ad at 10:24 AM | Comments (0)
February 24, 2007
BLN!
Everybody's chatting about the LDN
So I thought I'd have a chat about the BLN
Now I learnt what I learnt in LDN
And I'm taking it through to the BLN
There's a lot I can learn from the BLN
And I'm gonna mashit up with the LDN
I don't need to brag about the East End
Got the best of both worlds innit in the end.
that's from one of the absolutely smashing new tracks of
our beloved super stardom friends JAHCOOZI
and as you might reckon it's called BLN.
and yes - they will play all their new tracks tonight exclusively
for the first time ever for YOU!
at festsaal kreuzberg. at REVOLUTION N°5 obviously.
COME EARLY! (not as early as in the LDN but still EARLY.
they will be on at 01:30h, so hurry up!)
and now let us all sing-a-long:
"Don't underestimate the power of the Berlin TV Tower!"
Posted by ad at 10:59 AM | Comments (0)
February 18, 2007
REVOLUTION FEB 24 ARTIST PROFILES PT.2
that's us (as you might notice) together with the charming DEE from STYLESLUT who invited us over to london last week. next to JJ you can see BRAINS who is going to
dj down in the basement of festsaal kreuzberg next saturday!
yep, he likes teddy bears and spinning records in tiny, sweaty rooms
so come y'all, dance like crazy and make it comfortable for the resident of cool london clubnight 7 YEARS GLITCH.
Posted by ad at 11:35 AM | Comments (0)
February 05, 2007
RIOT!!!
Posted by ad at 02:03 PM | Comments (0)
January 09, 2007
The revolution is coming back
splendids,
after outing myself as a spoiler lately - this time i use my words, to
make you all excited about them coming things.
upcoming shows :
27th january: magnet club, Berlin; data MC rec release party
10th february: styleslut party, London; at 93 feet east.
17th february: ciseaux electronique, Berlin; one sick girl only.
24th february : REVOLUTION NO 5 (yes you heard it right, we´re back with a bang at festsaal, Kreuzberg; with the newest hottest shit we´ve collected in 06 and beyond)
read more here soon.
now go, play.

Posted by jay-oh at 03:41 PM | Comments (0)
August 04, 2006
SQUARE DANCE
Posted by ad at 01:45 PM | Comments (1)
July 17, 2006
REVOLUTION PICS BY FABIO
big up to FABIO from RAPSKIT.
he already delivered the brilliant DIZZEE RASCAL pics
and was again out&about this last saturday
for some MITCHELL BROTHERS footage.
view all pics HERE
and some now:

twin mics...

fashion police...

fresh attire...

star eyes - star smile...

dem sickos + monsieur calixte...

the style bunch...

no alcohol but fans in red...
Posted by ad at 09:52 AM
July 13, 2006
REVOLUTION RADIO N°2
is up on RADIO 1:1
check - stream - listen!
very chaotic & totally DIY and we love it...
next and LAST revolution radio on RADIO 1:1 95,2 mhz
on SATURDAY 29/07/06, 6 - 8pm
XXO
Posted by ad at 10:07 AM
July 05, 2006
AND ONE FOR THE BLOKES
Posted by ad at 09:34 PM
ONE FOR THE LADIES
Posted by ad at 06:05 PM
July 04, 2006
they´re cousins not brothers
world!
quickly announcing the detonation of another revolutionary bomb :
as soon as the 14th of july - our monthly assault to your hips
will happen again
and we - yes - did it again.
since final artwork and beautiful eye goodies are of no avail yet -
we jus´letyaknowlikethis.
we got dem
MITCHELL BROTHERS COMIN´- true.
plus half syrup girls some ill´four to the floor beats and much more lil nicey nice surprises .
fo´ now get me :
14.07. STYLE AND THE FAMILY TUNES present:
REVOLUTION NO 5 burning down the 103 club
live :
MITCHELL BROTHERS (679 RECORDINGS, LONDON)
djs:
STAR EYES repr the SYRUP GIRLS (shotgun wedding/tigerbeat 6, NYC)
SICK GIRLS (revolution no 5)
plus :
live :
DIRT CREW (dirt crew music/moodmusic)
djs:
PROSUMER (playhouse/panoramabar)
FRITZ ZANDER (Zander + Thülen/memo/WMF, berlin)
JAYBO doing the visualisation
STYLE & TFT make the goodies
more info will be provided by the info queen AD soon.
we will also introduce all participating revolutionaries on our next revolutionradio at 8th july 6pm - radioeinszueins.de
6-8 pm saturday 8th july 95, 1 FM
Posted by jay-oh at 01:40 PM
July 01, 2006
REVOLUTION RADIO PODCAST

mc passion + mc divine + dj maxximus one to one at the radio

matt shadetek + dj rupture + the light at the end of the tunnel
suuup suuup
it's up!
check listen forward: REVOLUTION RADIO PODCAST
our first radio show at RADIO 1:1
lots of charming technical problems, great tunes, silly talk
and two brilliant performances by our beloved guests mc passion, mc divine, dj maxximus and dj/rupture.
we do still have to learn how to work mics + desk correctly,
(fiddle with the volume, you know) but all in all it was big fun
and we can't wait to drop our next show on:
SATURDAY 08/07/06
18 - 20h
REVOLUTION RADIO
95,2 MHZ
tune in.
Posted by ad at 12:00 PM
June 22, 2006
RADIOSLAVES
Posted by ad at 09:08 PM
saturday
here´s a lill´warm up - if you want to get the real deal wait till AD has sported her new promotional tools. for now i can tell you this:
we will have fresh icecubes , big fans and a wonderful lill yard prepared for you, so you don´t have to necessarily miss the summer while donating us your sweat
SATURDAY AT 103 - THE REVOLUTION CONTINUES:
27.05 23H revolution no 5 at 103 club - falkensteinstrasse 47
live:
DJ MAXXIMUS (warp/mentalgroove)
FEAT the new girls on the block MC PASSION AND MC DIVINE ( London)
djs:
DJ/RUPTURE (soot/tigerbeat6, barcelona)
TIMEBLIND (tigerbeat 6 , orth, laboratory instincts , San Francisco)
+ yours truly
SICK GIRLS
we will play the most simmeringsummer set you´ve heard. and when rupture does it with 3 turntables, timeblind and us might tune in for a little 5 turntables 8 arms 2 computers session. plus the freshest mc ing girls we could find when checking london.
to get into the mood you can catch rupture and us from 6 - 8 pm on 95,2 FM or radioeinszueins.de
rawwwwwww
Posted by jay-oh at 07:18 PM
June 14, 2006
JUS' A RASCAL
If you dont believe me bring your posse, bring your crew!
Oi!
Donnerstag, 15.06.06
103 Club, 23h
Falckenstein Str. 47, Berlin Kreuzberg
Casa 103, liveDEMO & Revolution N°5 present:
After Show - Dizzee Rascal MC/DJ Set
first & only original clubgig in berlin!!
feat.:
Dizzee Rascal (XL Rec. / London)
+ DJ Semtex (BBC1 / London) MC/DJ Set
Data MC live (Hamton Rec., liveDEMO / Berlin)
Sick Girls (Revolution N°5 / Berlin)
Ill.O (The Smells / Berlin)
San Gabriel (liveDEMO / Berlin)
+ special guests:
Kid Kameleon (Mashit, Shockout / USA)
Ripley (Death$ucker, Havoksound / USA)
Posted by ad at 06:14 PM
June 04, 2006
FIX UP LOOK SHARP
Posted by ad at 01:12 PM
May 08, 2006
HOW SOON IS NOW - DA 2ND PHAZE!
yep - it's out! WILEY's second album hit the streets just today.
or let's better put it like this: if you really try you should
be able to get hold of one copy but only if you'd like to buy it
at ukrecordshop.com.
they claim to possess ALL existing copies and told us so by sending out e-mails to all weblog-holders who ever mentioned WILEY's name on their blogs. we find this disturbingly competitive and a
bit over the top really. dear uk recordshop, next time send
us some vinyl along with the spam please and we will spread the news
with much more enthusiasm...
anyway - live is better than plastic so listen up!
SATURDAY 27/05/06
REVOLUTION N°5 – 1 YEAR ANNIVERSARY!
@103 CLUB
feat:
WILEY - ESKIBOY DA 2ND PHAZE
Album Showcase! (Eskiboy Rec., Roll Deep / London)
DJ MAXIMUM (Roll Deep / London)
MC SLICKS (Ruff Sqwad / London)
UFFIE feat. FEADZ live! (Ed Banger Rec. / Paris)
THIS FUCKING SARA (Rust / Copenhagen)
SICK GIRLS (Rev N°5 / Berlin)
MS ELBE (Missunderstood / Berlin)
TERRIBLE (Washing Machine / Berlin)
DON'T MISS OUT ON THIS!
at least we hope that nobody, really nobody
misses anything here...
Posted by ad at 09:04 PM | Comments (1)
April 28, 2006
GIRLS BETTER KNOW
back again - it's been a while, sorry for this.
we're living at the busy end of sick world, u know...
our last revolution n°5 had been even more crowded, wild and heavy
than all our previous ones, we feel blessed by so much support,
thank y'all - u rule!
our beloved friend ALISHIA (hey girl!) has sent us some nice pics,
see below.
more to find as usual on partyking's paradise VOCO ME ,
happy birthday by the way!

what have u done - dj wonder


it' all from the mouth - faith sfx


you're back we know - tinchy stryder


faith + tinchy and the crowd gone mad


my neck my back lick it jus' like that
Posted by ad at 09:12 AM
February 11, 2006
BANGERS N°5
Posted by ad at 04:51 PM | Comments (0)
February 06, 2006
FEBRUARY REVOLUTION
whoah! will the SICK GIRLS be able to handle this?
12 crazy guys from all over the world ready for revolution.
GET SPANKED, GET LOW,INCREASE YOUR STAMINA AND LET
THE CRUNK MAIDENS BE WITH YOU:
Posted by ad at 11:09 AM | Comments (4)
January 21, 2006
JANUARY REVOLUTION
Posted by ad at 10:27 AM | Comments (3)
January 19, 2006
THE REVOLUTION IS LIVE UK!
you're barking up the wrong tree!
that's what FUMIN had to say on POW! our all time favourite GRIME anthem.
as a member of LETHAL B.'s FIRE CAMP CREW he's just as promising as a solo artist for UNDERGROUND DEVELOPMENT. he's 19, from london newham and his nickname is freckle face - you might guess why...

"As UK hip-hop grows in stature and new styles become recognised, TOR has quickly emerged as one of the key female MCs of the new generation and one of the few to impress at a major international level. Hear TOR and you'll know why, the intelligent, no-nonsense lyrical flow, the punchy delivery and the UK accent coming through loud and clear. Make no mistake, TOR is 100% homegrown." - we totally agree to the press sheet...
both are residents at LIVE UK a monthly event that presents the freshest UK urban talents
brought together by the highly influential mastermind of BBC1 radio DJ RAS KWAME.
when SAN GABRIEL connected us to LIVE UK we were more than happy
to organise our first party together. that's exactly what we love:
a perfect mixture of HIP HOP, GRIME, BASHMENT and real cool MCs.
come down to 103 CLUB everybody and bounce with us...
oh yes: not to forget our rock&rub&crazy whatever you call it razzle dazzle second floor provided by the demanding hands of FEMALE MACHO and the uberbrain professor POSTMOD. shackalacka.
REVOLUTION N°5 presents LIVE UK
21/01/06
start 23.30h
live floor:
RAS KWAME (bbc1-xtra / london)
MC FUMIN (fire camp crew / london)
MC TOR (underground development / london)
SAN GABRIEL (liveDEMO, data mc / berlin)
SICK GIRLS (revolution n°5 / berlin)
outter space rock'n'rub floor:
FEMALE MACHO + POSTMOD (berlin)
103 CLUB
Falckensteinstr. 47
10997 Berlin Kreuzberg

presented by rap.de
Posted by ad at 11:21 PM | Comments (4)
REVOLUTION N°5 PREVIEW 2006
WOT! WOT! POW? NO!
Posted by ad at 10:10 PM | Comments (0)
October 21, 2005
REVOLUTION N°5 GOES WATERGATE
FRIDAY 21/10/05
GRIME vs. BASHMENT
WATERFLOOR@WATERGATE
feat.
MATT SHADETEK (team shadetek / ny-berlin)
MCS ASIAN TROUBLE (berlin)
SICK GIRLS (rec n°5, wmf / berlin)
even a small revolution can change some things...
come on down to our floor by the river on friday.
MATT will play one of his outstanding GRIME sets,
full of exclusives and heavy mic action by ASIAN TROUBLE.
we will play the hard way.
GRIME, BASHMENT & CRUNK IN YA FACE.
AND OFF WE GO TO WARSAW TOMORROW.
our first ever international gig that is.
UH OH!
we gonna play at CLUB 1955 on the second floor
of the famous STALIN PALACE.

WOW!
thx to ARTUR + JACEK!
Posted by ad at 10:24 PM | Comments (0)
September 30, 2005
THE GRAND GRIME REVOLUTION
Posted by ad at 10:49 PM | Comments (1)
September 29, 2005
FUTURE LOOKS BRIGHT WE GOTTA WEAR SHADES
we wear our sunglasses at night, right ROB?
only one day to go before we will party til we cry.
literally. sommerlager was special for dem sick girls.
come on, let's bury our favorite crib in style.
looking forward to the next one.
show your love.
Posted by ad at 10:36 AM | Comments (1)
September 28, 2005
LOUNGE REPUBLISH
okay. one of those guys above will tear down the lounge
at THE GRAND GRIME REVOLUTION on friday
(the other one will more than likely be dancing on the mainfloor in the meantime)
his name is FREDE.
you might know him. he's one of the charming REPUBLISH members.
the other one playing (not in the picture) is not in the picture.
his name is AUDIO. you know him anyway.
he's always on stage at parties. he's a real dj
(whereas frede is a turntablist by heart but only in his dreams).
wildstyle it's going to be: OLDSKOOL HIP HOP D&B RAVE EXSTASY.
have fun.
*i've got to run & hide now. they gonna kill me.

Posted by ad at 06:27 PM | Comments (1)
September 26, 2005
TNT & MAIHEM

30/09/05 - GOOD BYE WMF SOMMERLAGER
as you can clearly see: GRIME is getting bigger.
something happened to MC MAIHEM & TNT.
they might have changed their appearance but not their dirty style,
that's for sure.
if you haven't been to their ass-kicking VOLKSPALAST show last -
when was that again? - october, you should really come and listen this time.
tiny maihem will catch your breath and twist it and shake it until you gonna faint.
more info at GRIME TIME
Posted by ad at 07:22 PM | Comments (0)
GOLD CHAINS & SUE CIE

30/09/05 - GOOD BYE WMF SOMMERLAGER
this is going to be a sick night:
THE GRAND GRIME REVOLUTION
let's hope you people gonna be strong enough for this.
you will experience grunge-hop-electro-snap by GOLDCHAINS&SUE CIE
as well as original gangsta grime by MC MAIHEM & TNT which
will be only topped by the ice cold beats&bassness of DJ MAXXIMUS plus
last but not least cause we'll play first: SICK GIRLS in heavy rotation.
the new GOLD CHAINS album 'WHEN THE WORLD WAS OUR FRIEND' is freshly
out on KITTY YO and the eclectic duo is touring europe.
that's what they are about:
GOLDCHAINS - BETTER TOGETHERsnip
Posted by ad at 06:39 PM | Comments (1)
September 22, 2005
ANIMAL FARM
yep. we made it. even the pigs start talking about us now.
that's fame, bro'.
yo j+k!
Posted by ad at 04:22 PM | Comments (0)
September 13, 2005
REV:VISITED

red hot chilli girls
great night - thanks everybody for showing up!
especially SASHA!!
high 5 to voco-me
we don't really need to say anything - it's all done already by dirk&torsten
(at least in german).
so holler back to their blog and read what it was like to see
the best grime mcs on the planet.
we love the pics as well - have a look.
one last shout out: grosses hallo an keepitrollin.de!
super thread. die sick girls freuen sich ausserordentlich über all das lob...knicks, wink.

we want you for the last fridays at wmf sommerlager!

dont miss:
23.09. GRIME TIME feat.CAMEO, NO LAY, G-KID, G SERVE
30.09. GRAND GRIME REVOLUTION feat.GOLDCHAINS, TNT, MAYHEM,
DJ MAXXIMUS, SICK GIRLS
Posted by ad at 11:41 AM | Comments (0)
September 09, 2005
AND ONE FOR THE LADIES...
Posted by ad at 02:00 PM | Comments (3)
September 06, 2005
WHEN KANO COMES TO TOWN

shout shout let it all out
just a few more days to go and we can welcome KANO and his crew.
loads of good things happened to the only 19 years old mc maniac
since his first berlin appearance last summer.
his album 'home sweet home' made more than clear that grime is ready
to climb up to the next step.
we're happy to present him right before the start of his huge uk tour
and - we are sure - only a couple of weeks, before he will win
at least one of the mobo awards, he'd been nominated for this year.
get set for
KANO live feat.
DEMON, GHETTO and BIONIX
and hey - what about a little competition?
the first three smartypants who will reply to
adbiz@sickgirls.de
with the right title of the bonus track on 'home sweet home'
will get +1 on the guestlist on friday.
okay. go ahead.
UPDATE
oh - the competition is over by the way.
you were right: the bonus track is indeed called
boys love girls
please get the complete album at juno mailorder
or directly at 679recordings

and why cant u get it at itunes, too?
anyway - nothing can beat the live experience so you know
where to go tomorrow, don't you?
Posted by ad at 08:58 PM | Comments (0)
SHAKE SHAKE SHAKE
BAD NEWS - GOOD NEWS, LIFE'S A BITCH.
bad news are: sasha perera the awesome lead singer of jahcoozi
won't be able to perform on friday due to a severe injury.
everybody send some healing powers to her, NOW!
good news: band members oren and robot koch will give you at least
a first impression of the forthcoming album live on stage.
and in the meantime get this:
this is one of our favorite tracks from the album 'pure breed mongrel',
out on kitty yo records, berlin on september 30.
everbody spread some love for jahcoozi.

Posted by ad at 10:08 AM | Comments (2)
LAST CHANCE FOR DA REVOLUTION
Posted by ad at 10:06 AM | Comments (0)
September 04, 2005
SNEAK SNEAK
Posted by ad at 11:01 PM | Comments (4)
August 14, 2005
REMMIDEMMI
tschingderassa bäng!
was ne party...hoffe die jungen damen und herren, die das sofa abbekommen haben,
haben sich hinterher ihre wunden und blauen flecken
von den hübsche hamburgern in den mindestens brennenden
müllsäcken signieren lassen.
absolute wmf premieren:
stagediving von umgekippter couch in die menge.
rotierende gelbe riesengummibälle mit phono-füllung.
kreischende mädchen mit sekundenohnmacht in den ersten drei reihen.
und alles andere eigentlich auch.
das war kompletter anarcho-hop mayhem mit support von das bo,
fettfettfettem sound und - vielen dank - mega publikum.
vor deichkind wir, bruder & kronstaedta und ein etwas verunsicherter
daddy freddy, der sich ungnädig mit unserem un-rootigen dj verhalten
zeigte aber dann doch, angetörnt von dem knallvollen floor
und dem coolen feedback, anständig bühnenpräsenz droppte.
wooha wooha!
klasse, hat spass gemacht. wird wieder spass machen.
nächste revolution am 09.09.
mehr hier later on.
xxo
Posted by ad at 02:59 PM | Comments (1)
August 05, 2005
REVOLUTION N°5 / AUGUST 05
DIE SUPER SOMMER FUN POP GOES THE REVOLUTION ISSUE!

und weil wir immer für überraschungen gut sind, gibts bei der nächsten revolution
bass deutsch auf beide ohren.
deichkind sind die wahnsinnigen hip hop elektro hybriden, die auf der bühne
unbedingt ein sofa brauchen, das nach selbstauskunft nach dem gig sogar
die eigene mutter nicht mehr wiedererkennen wird (haben sofas mütter?).
wenn der sommer schon keinen spaß macht, dann wenigstens wir.
auch nicht verpasst werden darf unsere neue (erste!) show gemeinsam mit
bruder&kronstaedta und dem 'raggamuffin hip hop' originator daddy freddy!
yessa - sick girls mc power...
dazu noch die wundervolle beatmächtige caynd und unsere heimatedition mit
jamaica-flavour rennt 10 mal um den block.
und hier noch mal in schön:
Posted by ad at 03:41 PM | Comments (0)
July 27, 2005
MO'PICS

at the club

boy from brazil / bruno tetine

lick my favela / eli tetine

sick crowd

sick girls

superringo

the hell boys from hellersdorf
mit heissem dank an nils krüger!
Posted by ad at 05:28 PM | Comments (0)
REVOLUTION TELEVISED

"put your hands up put your hands up!"
we are delighted!
great picture gallery for last friday's revolution n°5 at
berlin4fun.com.
real smashing documentary of our pumping baile funk special.
many thanx to torsten, dirk and the berlin4fun people for
setting this up.
read the party review at voco me.
Posted by ad at 01:21 PM | Comments (0)
July 19, 2005
GO GET IT
Posted by ad at 05:17 PM | Comments (0)
June 12, 2005
VIRUS GOT THE SCENE INFECTED
grosses hoch an virus syndicate!
die manchester jungs, deren rätselhafter akzent an den geheimen militärcode
einer noch zu erwartenden star wars episode reminiscte
und unsererseits zu völlig fehlgeleiteten antworten auf nie gestellte fragen führte,
sind einfach so und ohne einschränkung dope.
90 minuten ansteckungsgefahr, inkubationszeit null,
freiwillige opfer 100%.
lustig, intelligent, banging und auf den punkt. the good show.
group hug time
mega babe: sheen - all fresh grime intro, neben ihr matt shadetek bodymoving like hell,
time to get a mic and some spittin' ready, dont ya think, matt?
exzellent: dj maxximus - ich weiss keinen passenden namen für seinen style,
future grim bass da place in ya face vielleicht. unique.
und: (sag es mit bruza "räusper räusper r we live r we live?")
heissen dank an bruder&kronstädta, my beloved mates.
in nervenzehrender ermangelung von fo'real sick girl n°1,
durch meinen ersten richtigen mc showcase gezittert. phew.
thx everybody for your support (+ breakdancing!)...bin geflashed.

ob es an der novemberlichen nachttemperatur lag, an der ruhe vor
dem sturm (siehe berlinpartyoverkillprogramm vom 11.06.) oder eben doch daran,
dass die gemeinde der wissenden nu music lovers & loverettes noch etwas schwach auf der brust ist (dont worry we keep on feeding you proteins) - fakt ist,
wir waren nicht genug um die lounge zusätzlich zum mainfloor
aufzumachen und deshalb: entschuldigung vielmals an selecta g + adam port!
hoffe ihr seid nicht allzu genervt, danke für euer verständnis.
genug review, get ready for grime time am 24.06.
mehr bald hier.
xxl luv.
Posted by ad at 12:54 PM | Comments (1)
June 07, 2005
REVOLUTION STRIKES AGAIN

"it's grime again, innit?"

Revolution N°5
Freitag, 10.06.05
WMF Sommerlager, Rolandufer 13, B-Mitte, ab 23h
feat.
Virus Syndicate Album Release
"The Work Related Illness"
Main Floor:
Virus Syndicate (Planet Mu / UK) +
Mark One (Planet Mu, Rephlex / UK) live
DJ Maxximus (Warp, MG 77 / Berlin)
Sheen (Kyoto Amen / Berlin)
Sick Girls feat. Bruder&Kronstädter (www.sickgirls.de, p-pak / Berlin)
Lounge Floor:
Selecta G + Adam Port (www.seveninchsoldiers.com)
so, wir machen weiter.
trotz wetter, deutschland und meinem mac der rumspinnt.
mark one+virus syndicate: von dubstep zu grime and back.
dj maxximus: basst die welt.
sick girls: ist nur eins diesmal aber mit zwei mcs.
GET WELL SOON JAY OH!
bruder+kronstädter: doppel p-pak mit bärten.
mehr später (wenn das system wieder macht was es soll)
Posted by ad at 11:36 AM | Comments (3)
May 24, 2005
READY 4 REVOLUTION N°5!

Outbreak Cru go start the revolution!
sick girls proudly present: revolution n°5 @ wmf
das wmf summer re-opening ist hiermit perfekt!
wir sind begeistert von unserem ersten line up, wir hoffen ihr genauso.
and there it is:
freitag 27.05. revolution n° 5
wmf, rolandufer 13, b-mitte
feat:
THE OUTBREAK CRU (london)
TTC (big dada/ paris)
DJ ORGASMIC (ttc / paris)
MODESELEKTOR feat. PAUL ST. HILAIRE
live (bpc & false tuned / berlin)
SICK GIRLS (berlin)
lounge:
FEED (mitte karaoke / berlin)
BASSDEE (exponence)
BLEED (de:bug / berlin)
DANIEL WETZEL (contentismissing / berlin)
u.a.
revolution n°5 bringt zusammen was uns spass macht: hip hop, grime, digiragga,
heavy bass fresh step bounce action, holla!
die outbreak cru aus london kommt zum ersten mal nach berlin.
dj stylie und ihre beiden mc sisters pg und nikee droppen ihre eigene version von grime. no posing but playing. dabei so charming, dass ihr am ende alle zusammen mit ihnen auf der bühne steht und den chorus mitsingen wollt. yessa!
ttc - batards sensibles! 1 dj, 3 emcees! und das sind noch nicht einmal alle. die wildeste französische hip hop elektronik truppe, die je auf einem englischen label zu finden war. wers noch nicht kennt: schnell mal ihr letztes grandioses album auf big dada nachhören. throw your hands up for ttc everybody...
modeselektor vs. paul st. hilaire verpasst, letztes jahr im volkspalast?
keine sorge: rewind! nachdem uns mdslktrs "black barbie" jahcoozie rmx im letzten jahr schon zu hysterischen begeisterungsschreien verleitet hatte, gab uns ihre electronic roots performance mit basic channel wordmaster paul st hilaire aka tikiman den rest.
modeselektor ohne grenzen.
in der lounge wird derweil geburtstag gefeiert:
alles liebe feed + sasha!!
intro/outro kommt von uns. uns kennt ihr ja.
sick for life.
preview: die nächste revolution n°5 am 10.06. mit mark one & virus syndicate...dont miss.
und nicht verwirren lassen: das neue wmf sommerlager ist
das winterlager ist das alte sommerlager.
adresse also die gleiche, nur der eingang ist um die ecke.
Posted by ad at 10:41 PM | Comments (4)
May 19, 2005
DANS LE CLUB

würden sie von diesen jungs einen club kaufen?
wir schon.
nur noch 8 tage bis zur revolution.
TTC gettin' ready.
booyakasha.
Posted by ad at 10:09 AM | Comments (2)
March 24, 2005
THE REVOLUTION WILL BE LIVE
alter held mit frischem hirn.
während amerika versucht die vom vietnam krieg gebeutelte bevölkerung
via tv und massenkonsum ruhig zu stellen, veröffentlicht gil scott heron
sein vielzitiertes meisterstück THE REVOLUTION WILL NOT BE TELEVISED.
kraftvolle lyrics. nachlesen empfohlen:
You will not be able to stay home, brother.
You will not be able to plug in, turn on and cop out.
You will not be able to lose yourself on skag and skip,
Skip out for beer during commercials,
Because the revolution will not be televised.
more...
The revolution will not be televised.
The revolution will not be brought to you by Xerox
In 4 parts without commercial interruptions.
The revolution will not show you pictures of Nixon
blowing a bugle and leading a charge by John
Mitchell, General Abrams and Spiro Agnew to eat
hog maws confiscated from a Harlem sanctuary.
The revolution will not be televised.
The revolution will not be brought to you by the
Schaefer Award Theatre and will not star Natalie
Woods and Steve McQueen or Bullwinkle and Julia.
The revolution will not give your mouth sex appeal.
The revolution will not get rid of the nubs.
The revolution will not make you look five pounds
thinner, because the revolution will not be televised, Brother.
There will be no pictures of you and Willie May
pushing that shopping cart down the block on the dead run,
or trying to slide that color television into a stolen ambulance.
NBC will not be able predict the winner at 8:32
or report from 29 districts.
The revolution will not be televised.
There will be no pictures of pigs shooting down
brothers in the instant replay.
There will be no pictures of pigs shooting down
brothers in the instant replay.
There will be no pictures of Whitney Young being
run out of Harlem on a rail with a brand new process.
There will be no slow motion or still life of Roy
Wilkens strolling through Watts in a Red, Black and
Green liberation jumpsuit that he had been saving
For just the proper occasion.
Green Acres, The Beverly Hillbillies, and Hooterville
Junction will no longer be so damned relevant, and
women will not care if Dick finally gets down with
Jane on Search for Tomorrow because Black people
will be in the street looking for a brighter day.
The revolution will not be televised.
There will be no highlights on the eleven o'clock
news and no pictures of hairy armed women
liberationists and Jackie Onassis blowing her nose.
The theme song will not be written by Jim Webb,
Francis Scott Key, nor sung by Glen Campbell, Tom
Jones, Johnny Cash, Englebert Humperdink, or the Rare Earth.
The revolution will not be televised.
The revolution will not be right back after a message
bbout a white tornado, white lightning, or white people.
You will not have to worry about a dove in your
bedroom, a tiger in your tank, or the giant in your toilet bowl.
The revolution will not go better with Coke.
The revolution will not fight the germs that may cause bad breath.
The revolution will put you in the driver's seat.
The revolution will not be televised, will not be televised,
will not be televised, will not be televised.
The revolution will be no re-run brothers;
The revolution will be live.
Posted by ad at 10:57 PM