December 20, 2008
loose holidays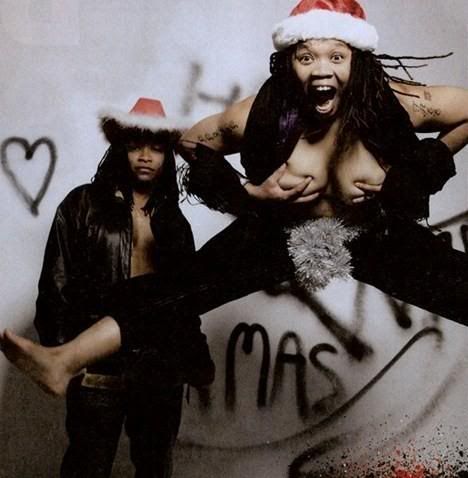 we love you all too.
and here´s our present for you
Posted by jay-oh at 03:05 PM | Comments (0)
November 14, 2008
let your x´s be y´s
i came across another very interesting peculiarity when reading friday´s newspaper.
someone(s) has had the nerve to make a website which analyses blogs and other webpages for their gender(ed) content.
the empirical results where stunning: "man" tend to write more about technical stuff, whilst "female" writers blog diary style.
typical words for "male" authors where : beer and programming, whilst typical ladies´content was : wine, scissors and shopping.
so in case you don´t know which of the many options you feel inclined towards today, blog a little and check:

http://www.genderanalyzer.com
might also help you with clothing option insecurities and other mirror crisises. (or your sommelier)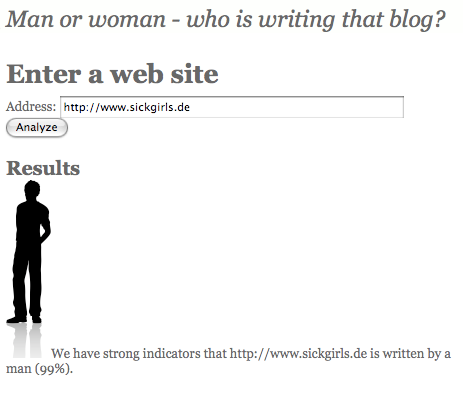 Posted by jay-oh at 12:36 PM | Comments (0)
ass you like it
a few shows ago, at scala, berlin, we had to sign three guy´s asses.
next time, one of you wants your butt decorated, we ´re going to encrypt a little more text.
like a recipe or our current charts:
Posted by jay-oh at 12:13 AM | Comments (0)
October 01, 2008
thats how you get people to give you your email address
and they even want to. lovely Xample for how personalized marketing works:
i did take part. yo. now adidas knows what music i like ( i created the line up) , and what style i am into ( i created the poster design), who my friends are, they have the names and email addresses of similarly minded folks. they have free product placement on the hipster blogs - (viral marketing in its essence) and we might also win smth. hell yes!
of course, i only gave fake names, don´t worry friends. the great thing is , nobody tricked me, i did it all cause i wanted to. WOW adidas. WOW whatever agency is behind this. you get them where you want them. nice job!
Posted by jay-oh at 06:25 PM | Comments (0)
September 19, 2008
Die Akkumulation des Kapitals
my new favourite track is not only a fucking banger, but shit,
mr mumdance

dun it again
the way he deconstructs the original (evil nine) is just plain genius and the Jammer added lyric - cuts really call out today. now go back to your toys
Posted by jay-oh at 07:20 PM | Comments (0)
September 11, 2008
time for CHANGE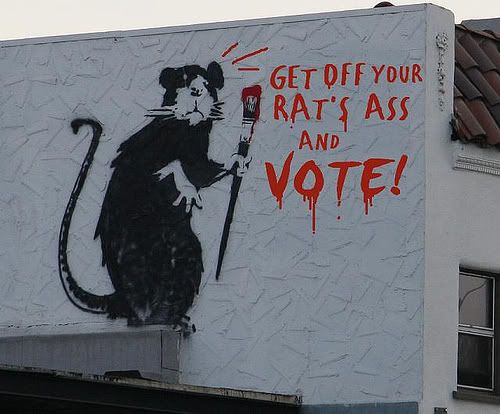 and show your sick girls some love
and should you wonder about our terminology
for the term "rat" - refer to alain badiou´s wonderful essay on sarkozy .
finally someone who dares to draw new ideas on politics.
Posted by jay-oh at 04:02 PM | Comments (0)
August 04, 2008
in WW II it was native american dialects, today its OTFE
people:
in times where there is no privacy any longer, we should all turn to open source !
what remained a dystopic joke on pessimists diner parties and has long been whispered in conspiracy circles now becomes present tense. what is desired here is more paranoia, on both sides of the table, so you better run this on your notebook:
http://www.freeotfe.org/
as:
The U.S. Department of Homeland Security has concocted a remarkable new policy: It reserves the right to seize for an indefinite period of time laptops taken across the border.
A pair of DHS policies from last month say that customs agents can routinely--as a matter of course--seize, make copies of, and "analyze the information transported by any individual attempting to enter, re-enter, depart, pass through, or reside in the United States." (See policy No. 1 and No. 2.)
DHS claims the border search of electronic information is useful to detect terrorists, drug smugglers, and people violating "copyright or trademark laws." (Readers: Are you sure your iPod and laptop have absolutely no illicitly downloaded songs? You might be guilty of a felony.)
This is a disturbing new policy, and should convince anyone taking a laptop across a border to use encryption to thwart DHS snoops. Encrypt your laptop, with full disk encryption if possible, and power it down before you go through customs.
Here's a guide to customs-proofing your laptop that we published in March.
It's true that any reasonable person would probably agree that Customs agents should be able to inspect travelers' bags for contraband. But seizing a laptop and copying its hard drive is uniquely invasive--and should only be done if there's a good reason.
Sen. Russell Feingold, a Wisconsin Democrat, called the DHS policies "truly alarming" and told the Washington Post that he plans to introduce a bill that would require reasonable suspicion for border searches.
But unless Congress changes the law, DHS may be able to get away with its new rules. A U.S. federal appeals court has ruled that an in-depth analysis of a laptop's hard drive using the EnCase forensics software "was permissible without probable cause or a warrant under the border search doctrine."
At a Senate hearing in June, Larry Cunningham, a New York prosecutor who is now a law professor, defended laptop searches--but not necessarily seizures--as perfectly permissible. Preventing customs agents from searching laptops "would open a vulnerability in our border by providing criminals and terrorists with a means to smuggle child pornography or other dangerous and illegal computer files into the country," Cunningham said.
The new DHS policies say that customs agents can, "absent individualized suspicion," seize electronic gear: "Documents and electronic media, or copies thereof, may be detained for further review, either on-site at the place of detention or at an off-site location, including a location associated with a demand for assistance from an outside agency or entity."
Outside entity presumably refers to government contractors, the FBI, and National Security Agency, which can also be asked to provide "decryption assistance." Seized information will supposedly be destroyed unless customs claims there's a good reason to keep it.
An electronic device is defined as "any device capable of storing information in digital or analog form" including hard drives, compact discs, DVDs, flash drives, portable music players, cell phones, pagers, beepers, and videotapes.

Posted by jay-oh at 02:36 PM | Comments (0)
June 25, 2008
Saturgay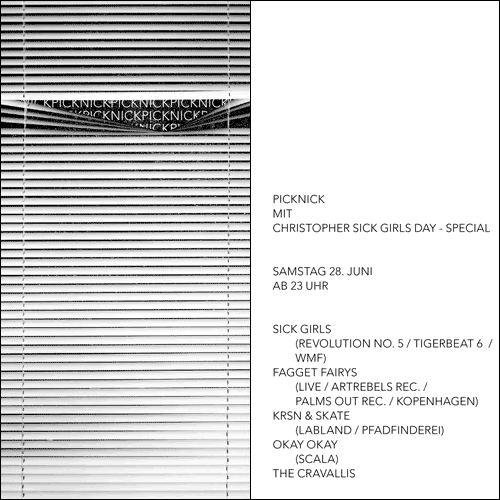 its christopher streetday and faggetfairys promise to play you gay. sick girls shake that ass and krsnskate do the balls.
Posted by jay-oh at 02:06 PM | Comments (0)
June 05, 2008
In the privacy of our love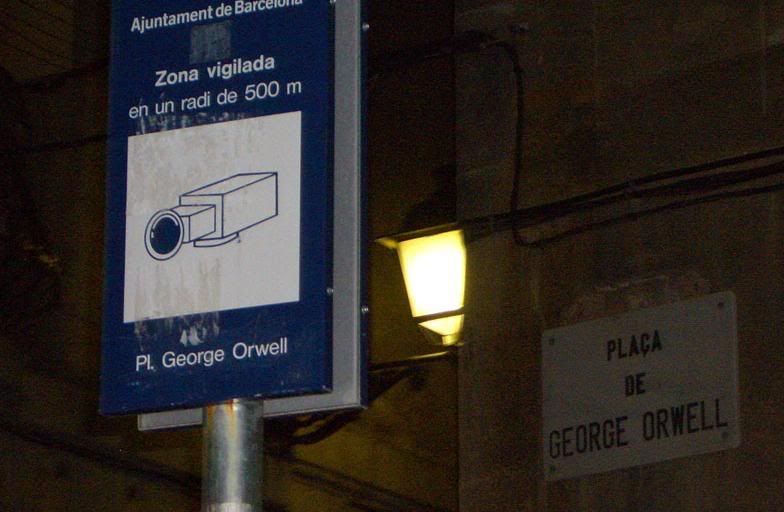 Posted by jay-oh at 04:22 PM | Comments (0)
Lindsay Lohans Coochie Lips
Following the latest issues/gossip around lady lohans sex life, i´m reinterpreting her
pussy stunt from last year. girl , what a feminist gesture to show you´re pussy openly to the wild.
here you fucking go, eat mine! girl´s got dick, or rather clit.
anyways, happy new gender!
pase rock did the tune, we now must rewind it now: take your panties off, show your baby red.
http://hypem.com/search/pase%20rock%20lindsay%20lohan/1/
(as my browser´s fucked its copy / paste unfortunately)
did we mention sick girls also support : blanka bröst?
Posted by jay-oh at 01:44 PM | Comments (0)
May 20, 2008
REVOLT !
the most important things this week is ? right, getting ready for the revolution.
since we´ve come across many wrong ideas while spreading the flyers, where the party ´s happening we need to officially announce, that:
REVOLUTION NO 5 on the 24th MAY this saturday is NOT AT WEEKEND. it is at the 15th FLOOR of the same building and we share the same entrance. but its a different room, further up, with an amazing P.A.
and access to the motherfucking rooftop terrace. YEAH ! starts at 12. lasts till u cant move anymore.
we music, u dance.
Posted by jay-oh at 01:40 PM | Comments (0)
May 15, 2008
3Broken Hearts can swing
we were invited to play a short set at broken hearts club tonight.
so if you wanna check the soft side of your girls
come by at ballhaus mitte, chaussestrasse 102 or so.
we start at 2:30 and will play some of our LOVE tunes.
frei nach dem motto : liebe, sex und zaertlichkeiten.
there´s more to life than this.

Posted by jay-oh at 11:22 AM | Comments (0)
April 15, 2008
Happy Happy thank you
everybody for the great party. i am still overwhelmed of the beautiful night, and on saturday couldnt help running around grinning all nite not believing how wonderful it was.
so here´s some pics for a little while
http://www.anstadtberlin.de/bipbipbipbipbip.html

lots of love for everyone who was there!
Posted by jay-oh at 02:02 PM | Comments (0)
December 21, 2007
everyone´s charting
so we do too:
J!J? s got to say:
best in 2007:
fashion:
MOSCH
HENRIK VIBSKOV
film:
ZIZEK!
gig:
WE LOVE MODESELEKTOR in paris,
FUSION FESTIVAL in laerz
author:
CHRIS KRAUS
hairdresser:
CHRISTIAN F
person:
MY OTHER HALF
magazine:
LTTR
Living & Loving #3—The Biography of Mitchell Wright
blog for music:
DISCOBELLE
THEFASTLIFE
blog to read:
MERCEDES BUNZ
picture perfect:
NEONSLEEP
artwork:
A.K. BURNS - shotgun wedding no 8

music: in no particular order:

JAHCOOZI
YO MAJESTY
SINDEN
LIL MAMA
BLAQSTARR
RUSTIE
SHIR KHAN
MIA
DIZZEE RASCAL
BURAKA SOM SISTEMA
DIPLO
MAN LIKE ME
STARKEY
BANGERS AND CASH

and a big big holler to all the people that made 2007 so sick:
KATRIN, MARIE, LENNART, GERRIET, DANIEL ZEDELMAIR, STEFAN LEHMKUHL,
SASHA, OREN, ROBERT, MODESELEKTOR, STAR EYES, ANDREA, SCHOBBEJAK, FASTLIFE,
LOVE FRIENDS FAMILY
AD will as always make this list complete
as i´m the forgetful one and she´s the brains and the looks.
goodbye 2007!
Posted by jay-oh at 03:30 PM | Comments (0)
December 04, 2007
more to smirk
"If the inquiry names names, then names will
be named." - Gordon Brown, PM.
"The house has noticed the Prime Minister's
remarkable transformation in the past few
weeks - from Stalin to Mr Bean." - Vince Cable
Posted by jay-oh at 04:41 PM | Comments (0)
another new favourite: JAHCOOZI BLN
Posted by jay-oh at 03:43 PM | Comments (0)
October 04, 2007
Step UP
and take some minimal action for BURMA/MYANMAR/BIRMA or however you want to reference it.
i know we all think petitions make no sense/difference , but then you can as well do it instead of doing NOTHING.
Posted by jay-oh at 05:16 PM | Comments (0)
September 26, 2007
it´s 1984 and nobody has noticed
i was at a protest march on saturday. not that this is smth special.
and yes AD and i usually don´t use this medium to blab about personal things, however. when doing research yesterday i found nobody who wrote about the protest against the new german security laws that are discussed these days. the state wants to put its citizens under surveillance, check and store all personal data, including telephone connections and short messages, health reports and social security data, credit card reports, emails, internet connections, personal data and more - for over half a year. and not only if you count as suspect, but from every single person. there will be no more "schweigepflicht" for doctors or lawyers, as all your data is stored on your health insurance cards, for everybody to check.
well again - i didn´t want to start blabbing, what i really wanted to say was that i was trying to find smth about this on the news. there were 15.000 people but i couldnt find any paper that found it worth writing about. thats why i felt the urge to at least say smth: there were people that got injured by police violence standing right beside me, while protesting peacefully. there was blood , teargas and pepperspray. the cops used their clubs on teenagers.
they aggressively went into the people demonstrating and started beating single people up, provoking aggression. trying to escalate. the black block got beaten up like shit but still behaved - which was amazing to see - and just stopped the demonstration. whilst that the police was filming everybody attending the march for their records."potentielle unruhestifter". maybe the sick girls will need to change their names.
Posted by jay-oh at 01:40 PM | Comments (0)
June 05, 2007
EVERYONE GO TO RAW - STOCK
AS U CAN SEE BELOW AND EVERYWHERE ELSE - REVOLUTION NO 5 SUPPORTS THE
BLOCK G 8 MOVEMENT. FIGHT REPRESSION AND TOTALITARIANISM IN THIS COUNTRY AND EVERYWHERE. GO HEILIGEN - DAMN AND SHOW YOUR ANGER AND DISAGREEMENT.
NOW!
Posted by jay-oh at 05:55 PM | Comments (0)
March 02, 2007
boink
value="true">

Posted by jay-oh at 02:15 PM | Comments (0)
February 07, 2007
all over the place
Posted by jay-oh at 02:02 PM | Comments (0)
November 21, 2006
I am gonna wear a rock tonight and lick some CSS thighs
in case you didn´t know this is what you´re gonna do with me :
its tuesday so
LET'S MAKE LOVE
AND LISTEN TO DEATH FROM ABOVE.
at:
103 CLUB
FALCKENSTEIN STR. 47
10997 BERLIN KREUZBERG
:
CANSEI DE SER SEXY! :
LOVEFOXX
ANA
CAROLINA
LUIZA
IRA
ADRIANO
AND
SICK GIRL(S)
don't miss the hype of the season - 5 girls & one crazy guy from brazil
heavy petting with their guitars and electronic devices alike.
supportet by boy from brazil, puppini sisters and your one and only
sick girl jay-oh on a solo mission not sure yet what she´s gonna play er, - wear. in case the dj booth is empty i´ll be stagediving. so take it easy or join the course.

Beginn: 21 Uhr, Einlass: 20 Uhr,
VVK: 15 Euro, Tickethotline: 030 780 99 810,
www.trinityconcerts.de
Posted by jay-oh at 01:39 PM | Comments (0)
November 20, 2006
AFTER THE WEEKEND IS BEFORE THE WEEKEND
really, i hate mondays.
the super euhoria of the weekend is a blurry emotional memory, somewhere in the furthest corner of your only active braincell.
you still hear distant voices, snippets of incredibly hilarious late night conversations, some vague awareness of the extend of fun you were having, a dancemove, a beat, a melody.
and then you have to sit in an office, stare into the screen, be creative. disgorge ideas. censor, judge, speak, meet, talk.
an uneasy task. especially today.
why? well this past saturday created such a highly compressed super energy in so little time, that endorphines aren´t yet on their way back. whom to blame?
well - the crowd of course, the special guests, the green lollipops - but hey ladies - this was incroyable !
we have to take a bow to our blonde neighbours - soundclashing with dullen + dyken´s from copenhagen was definitely meant to be.
and speaking about determination - it is bound to happen again.
SICK GIRLS SAY THANK YOU - NEVER BEEN SO TIRED AFTER SPINNING -
IT REALLY KICKED ASS TO PLAY/DANCE/ROCK WITH YOU.
THANKS BERLIN, THANKS COPENHAGEN, THANKS HYDROGEN PEROXIDE, GOD BLESS THE SNEAKERS, THE SPEAKERS AND THE BASSLINE.
Posted by jay-oh at 01:58 PM | Comments (0)
September 20, 2006
US and THEM
my blood connections to the advertising world have brought me this wonderful little slogometer , it lists the 100 most frequently used words in german advertisement (note the many english terms) and it seems that since the 90ies our little "wir" (we) is queen. as in "wir sind papst". my next hours will be spent combining the words on the list - "macht"(power) ranks on number 15.
let´s see...
note : also very interesting if we combine the slogometer with the sloganizer try : Macht.
i loved : Macht macht erfolgreich.
Posted by jay-oh at 04:15 PM | Comments (0)
September 18, 2006
back from the US - urpators
aight the jay ´s back. full of new experiences, social -, cultural- and inter - (everything) studies.
so - as all of u know it always takes me some time till it´s finally on here - but here´s the first announcement that, after having managed to get my pics onto this digital device - u can expect me digging a little deeper into the so called "hype on hyphy" and my discoveries in oakland
- an explanation of why the rest of san francisco is still stuck on electroclash and an analysis of whats hot in new york as derived from sunglasses.
already overwhelmed by berlin´s possibilities, here´s where you will find the sick girls this week :
19th - yellow lounge - jimi tenor and orchestra
20th - first : hot chip at lido; then: half girl half sick at lovelite
22nd - sick girls at stadtbad oderberger strasse
and : missy comes to town - you know 30th of sept the mighty missy is playing her first ever show at arena berlin. get your tickets - she might as well have her coming out in berlin.
and for all the Leipzig people - don´t miss us 29th at conne island. more details soon.
Posted by jay-oh at 07:21 PM | Comments (0)
August 25, 2006
ching chang chong
we did promise you some insight into china - remember back in may?
well sick girls are always late but never lie so here you go - watch your girls get sweaty playing tango or provide backup beats for chinese "art" at crazy gallery district:"dashanzi" hello goethe institut ... :

http://www.walkscreen.de/impulse.htm
Posted by jay-oh at 07:41 PM | Comments (0)
August 23, 2006
quote of the day
today´s favourite comes from my girl yvette:
"die wahre romantik liegt nicht in der perfektion"
commenting on the reality of the parisian charme. sick girls both have to double that up and we might also use that as an explanation for our dj sets. from now on as its what we´re all about. yvette : you made my day. german can sound so wonderfully 19th century.

Posted by jay-oh at 07:26 PM | Comments (0)
August 18, 2006
tell me what´s your flavour
so EVERYBODY, now holler donne e uomini, we need you to tell us your sick favs.
AD and my personal journal are having a meeting - as we know you are in need for another revolution and yes we are too.
the sick thing is we can´t decide where to go so what´s your suggestions?
who´s got the sickest sound in town and where can we let the bass rule?
wasserwerk would be a great place but thats all the way down in switzerland and they do have great food - BUT we cannot leave dirk and thorsten alone in berlin - not to forget michael - so ?
where should the next revolution happen, we need to rep the place.
Posted by jay-oh at 07:21 PM | Comments (2)
August 11, 2006
been there been sQuare
Q - BIK
was fun , even cold.
and here comes our favourite Quote from yesterday:
YOUR MUSIC RAWKS - PEOPLE DON´T KNOW HOW TO MOVE - BUTT THEY ALL MOVE.
thanks for shaking!
Posted by jay-oh at 04:48 PM | Comments (0)
June 21, 2006
Sonar 06
yours trustworthy half sickgirl was sent to barcelona to check out this years edition of sonar, whilst the other half was collecting some real dizzee sweat. YEAH ! BIG UP BIG D AND MY BELOVED SECOND HALF YOU RULE!
here´s a quick sum up of what i noticed :

minimal : all the clubs booking minimal pretend they don´t do it because they like it , but because they have to. they most certainly believe its dead - haha
well - if i remember correctly there where about ten parties each night featuring some more or less minimal tech house.

uffie + feadz : since we were not able to see them perform at the last revolution cause we had to spin ourselves - i had to check them out again : coming to the conclusion : uffie is really 18. and a great mc.
and feadz beats are just unbeatable. so fabien : what do you think about a collabo ?
but : VICE PARTIES SUCK!

dj rupture : was the only one in the whole barcelona circus throwing a minimal alternative . for as less as 1 euro entrance this was a damn blast of better beats then the whole rest of them parties.
diplo vs a trak : handling turntables as if they were machinedrums. beastie boys mashing up juelz santana , carioca videos providing beats for vybz cartel. 3000 people watching. nice one !
sonar : one thing that really really is not understandable for me : why did you invite ugly duckling and digable planets? i mean big up to those guys no doubt - damn great classical hiphop. but they´re dinosaurs man - and hello ? what is sonar about - did i hear somebody say : new music? so if there´s somebody in charge - here´s someone to provide you with some nice lil recommendations
sonar.es
Posted by jay-oh at 10:29 AM
May 24, 2006
BEijing
JUST A QUICK DROP IN TO TELL YOU THAT YOUR GIRLS ARE CRAVING TO GET BACK TO CHINA, SO IF ANY OF YOU HAS FREE TICKETS YOU KNOW WHERE TO DONATE THEM.
PICS WILL FOLLOW SOON - JUST THIS FOR NOW - IT WAS TREMENDOUS -
AND WE FEEL ENTITLED TO SAY - EVERYBODY SHOULD GO CHINESE.
AEHM IF YOU NEED TIPS AND TRICKS ASK THE SICKOS
NIHAO

Posted by jay-oh at 02:17 PM
March 29, 2006
dres-dem
for all u curious ones out there, craving to know what dem sick girls do when they go abroad, i promise some sizzling dresden details on this site soon. we got pics, we got posters, we got stories and
we got some thank u´s for all u lovely birds and bears from double d - dancing with u was outstanding fun.
sick girls love u
Posted by jay-oh at 01:41 PM | Comments (2)
January 18, 2006
the revolution is coming
watch out : the revolution is coming.
we will soon be back with more top secret info on :

Live / London presents:
RAS KWAME (bbc1-xtra, channel u, live / london) (oh my gawd THAT ras kwame ? you sure? )
MC FUMIN (more fire crew, boundry, ud rec., live / london) (the man who raves with lethal b)
MC TOR (live, ud rec. / london) (it´s a she)
SAN GABRIEL (live demo, data mc / berlin) (need i say more?)
SICK GIRLS (sickgirls.de / berlin) (yours truly)
there might even be the chance to win smth tremendously cool for :
January, 21 2006 : REVOLUTION N°5@103 Club
Falckensteinstr. x-berg, BERLIN,
moremoremore
Posted by jay-oh at 05:04 PM | Comments (0)
December 15, 2005
JUST CHARTED
not true - i ain´t ready - mine´s here. chartees. i mean
since it s already been hard for me to bring them to a particular order
i was only able to do a top ten list, cause actually i like most of them tracks most and theres no No 1s or 10s - not to speak about twenties. i tried real hard - but it still seems like my top ten are in no particular order...
and for them blog faves - i stick with that list right there -------------------------------->
there´s a new one though for all you commercial people out there:
if you´re into the big market´s business

well then folks here you go:
Jay-Oh 2005 Hip Hop Top 10:
-------------------------
- roots manuva - awfully deep album
- spankrock - rick rubin e.p
- missy - cookbook album
- fumin - war e.p
- sway - unreleased
- monkeytribe - so sad son/get with the program e.p.
- nextmen with dynamite mc - ep
- the tape vs rqm - album
- birdy nam nam - dvd
- euricka - get crunk e.p.
Jay-Oh 2005 Grime Top 10:
----------------------
- lady sov - ch ching rmxs
- wiley - rmxes
- slk vs flirta - hype hype
- mizz beats - hoodie rmx
- no lay - unorthodox daughter
- outbreak crew - all
- virus syndicate with marc one - album
- dj zinc + dynamite mc - people 4 (white)
- monsta riddim . v.a.
- medasyn: the battle (unreleased)
Jay-Oh 2005 V.A. Top 10:
---------------------
- goldchains and suecie - better together
- jahcoozi - pure breed mongrel
- jackson - smash
- modeselektor vs ttc
- radioclit : chloe vs dizzee mashup
- m.i.a. (uk) - arular
- dynamite mc + origin unknown - hotness
- NIN vs 50 cent - closer vs birthday mash up
- dj vadim feat moshun man - terrorist
- flirta d - grimey

and heres my topfavourite list of peeps for 05 (again no particular order ):
AD (biggest fan of them sick chick. love u!)
Roman Liska (man made us look better, check: roman-liska.de)
San Gabriel (thanks + big respect - you know what for)
Sasha (i hope for some new jokes next year without the l word - kinda worn out...)
Gerriet (you made it all happen)
Jahn (thank heavens you saw our show)
Stefan Lehmkuhl (thanks for intro:duction)
Andrea (all that patience)
Marie (all that excitement!)
INA (miss you gyal!)
Isabella ( for giving me that composing chance again)
B + K (toast it)
Atilano + Sumi ( making me feel look safe : best-shop.com)
and more then everything:
FRONTROW DANCERS: (love, friends and all above)
MIONA, TILL, SANDRA, CHRISTIAN, KATRIN, SABINE, SILKE, CARO, CLAUDIA, HEIKE, FUSI, ISABEL, SVEN VT, ANDRÉ, MATT, SHEEN, LUCA, TOPH ...

Posted by jay-oh at 04:37 PM | Comments (3)
November 03, 2005
Spankrock does so
really they rock.
just heard some stuff from their forthcoming album on BIG DADA.
its got -(b)ass and titties and BRAIN. what a nice combination.
Posted by jay-oh at 12:56 PM | Comments (0)
November 02, 2005
diplo fabric mix
i just received diplo´s fabric live 24
mix cd.
and i have to say: i am not impressed.
first of all:
i know nearly all of the tracks.
second:
i know them because they are classics.
third:
real oldschool classic - best of elektro - cybotron, yazoo, freestyler,model 500, blablah classic classic.
fourth:
the mix doesn´t sound really special - except for the short trip into baile funk ( 5 tracks from 26 - 2 of them his own productions) - its all blablah - the 3 really exciting tracks have been played by my beloved better half AD for more then half a year now and what the heck are the cure , le tigre (with their BIG classic) and cat power doing on this mix ?
I AM VERY DISAPPOINTED!
WHO IS SUPPOSED TO SET OUR STANDARDS? I GUESS NOW WE CAN ONLY DO THAT OURSELVES.
and smth more : david banner is playing tonight - some where in the west. q dorf?
see you there.
Posted by jay-oh at 04:33 PM | Comments (3)
October 04, 2005
DA WOW´s - 30.09.05
I´ve heard that SICKGIRLS - was flashing on the big LED screen while we were playing. that is maybe the biggest thing i could think of. GEEZ - this party was mental -
this is the BIGGEST THANK YOU - to everybody who was there and turned this party into a BIG rave with us.
i hope pictures will follow soon - who did?
BIG UPS TO AN AMAZING TNT AND MAIHEM - YOU WERE AWESOME !!!
AS WELL AS TO OUR BELOVED CALIFORNIANS - GC and SUECIE you just took us off to, damn yes, -
PUNK!!!
THANK YOU MAXXIMUS for the most rewinds ever played at WMF - a crowd dancing wildly before the main act and the coolest headnod of the night.
THANK YOU FREDE, AUDIO AND JULES FOR YOUR PATIENCE!
THANKS SASHA UND CHRISTIAN FOR THE GRIMETIME CONTRIBUTION - THANKS GENE FOR THA PICS -
THANKS MIONA FOR STAYING FOR THE LAST ADIDAS HOODIE - THANKS SVEN FOR THE NICEST MOVES
it still is the saddest thing on earth WMF closed now - makes AD and me become nomads.
you will catch us here and there on the road. sadly missing our beloved home but still trying to bring you great and different music from all across the world and it´s genres.
dates soon - but now :
THANK YOU MR . G - FOR MAKING THIS ALL POSSIBLE - THE WMF AND ITS CREW GAVE US THE OPPORTUNITY TO DO OUR THING WITHOUT ANY CREATIVE LIMITS.
THIS WAS THE BEST THING THAT COULD HAVE EVER HAPPENED TO US.
WE LOVE YOU.

Posted by jay-oh at 12:57 PM | Comments (0)
September 30, 2005
better don´t smoke
you know what? marlboros´are tempting. but since mama said don´t smoke - you just better stay with the sick girls and die of dancing rather than cancer.
there might be some high heeled women to attract with a marlboro - but at the same time - tonights the last chance to see them sick girls at wmf - it´s the last chance to party at this wmf before it gets rebuild into office spaces. marlboro might come back - but this wmf sommerlager for sure don´t!
i admit that it is very tempting and hard to avoid - but you can be sure - when jay oh finds out you didn´t show up to say good bye tonight for rather going for a smoke - you won´t be my friend anymore.
Posted by jay-oh at 11:23 AM | Comments (0)
June 23, 2005
zitat
found this quote yesterday i liked very much:
(the protagonists are talking about r´n b and hiphop)
"h. ... zeigt sich ganz euphorisch darueber, dass die momentan, wie sie es feierlich ausdrueckt, fortschrittlichste musik unserer widerspruechlichen zivilisation gleichzeitig deren populaerste und erfolgreichste ist."
yo,man i´d say you got it. hat mich schon immer zum nachdenken angeregt, freut mich, dass ich somit jetzt auch literarisch geback - upt, mainstream spielen kann, ohne meine "street creds" zu verlieren.
yes: b/c : hoergewohnheiten zu veraendern is the priority, thats why a mainstream song like timbaland or some neptunes stuff is worth billions - it´s fresh and hot and totally ahead of time AND sells a million copies. i say this is effektiv.

by the way the excerpt is from my man, thomas meinecke, just reading his last great novel : musik.

Posted by jay-oh at 08:23 PM | Comments (0)
April 19, 2005
mekkah - n
ich finde, wenn meckern dann morgens:
auf xl gibts jetzt die moeglichkeit M.I.A - acapellas runterzuladen und eigene mixe zu kreieren.
sozusagen anknuepfend an das tolle "piracy funds terrorism" mixtape von diplo/m.i.a. welches hier im text tatsaechlich als m.i.a. eigenkreation (diplo wird zumindest noch in klammer erwaehnt) glorifiziert wird, eigentlich aber diplo hier auf m.i.a.s acapella geklaute beats gelegt hat und zwar hauptsaechlich von den funky do morro leuten.
schliesslich koennen ein paar ghetto baile funk kids aus brasilien ja nicht lauthals nach "copyright" schreien. wir koennen aber. auch als fans...
check m.i.a.(uk) interview in der taz...

ps.
suchen dringend fuer low-budget kurzfilm, weibliche skater-kids zwischen 13 und 17.
wer also eine coole kleine schwester hat, die schon immer von ihrem gesicht auf celluloid getraeumt hat dann her damit!
Posted by jay-oh at 12:26 PM | Comments (0)
April 15, 2005
WATERGATE REVISITED
big up, shout outs, piff bäng bumm!
super abend gestern im watergate. thx everybody!
airkissing deluxe to ma sistas jay oh & barbara.
dancing queens of the night:
1. tricky tricky tunes
2. sasha the-one-legged-princess
3. pete 'lift ya shirt'
und gleich nochmal am 30.04. im neuen nbi:
dj/rupture, matt shadetek, barbara hallama + sick girls.
jay oh says:
ich fuehle mich geehrt, von so vielen verschiedenen nationalitaeten fotografiert worden zu sein und in so vielen sprachen gelobt worden zu sein. das watergate versammelte zur coke kultur eine lustige mischung aus diversen ethnizitaeten und breakbeat fans deluxe, naechstes mal lassen wir den warm up weg und spielen gleich pow! hauptsache niemand versteht den text...
Posted by ad at 02:08 PM
March 23, 2005
anybody da draussen wants to give me technics?
jay oh is in need for a plattenspieler. also falls in da far corners of the internet irgendjemand irgendjemanden kennt, der/die/das zufaellig eins zwei MK II loswerden will. ich bin bereit fuer die auktion.
- angeblich soll man ja jeden menschen auf der welt irgendwie ueber 6 ecken kennen. darueber nachgedacht, zu wem ich meine sechs ecken heute gerne mal gehen wuerde.
?!
andre 3000, judith butler, warrior queen, gwen stefani, roland barthes, john malkovic, spike jonze
catherine deneuve, missy , und die anderen sind grad alle tot.
lest mal die neue spex. m.i.a. aufm cover.. und beck ist jetzt bekennender scientologe.
wicked weird world.
zekica zelim te
Posted by jay-oh at 02:04 PM
March 21, 2005
beat dis
gestern war ich auf der beatstreet.
ja tatsaechlich. interessant war´s. viele leute haben mir seltsames erzaehlt, oder mich fuer merkwuerdig erklaert. die meisten davon hatten grosse augen.
einer hat mir zu meiner dj karriere gratuliert und meinte mit uns wuerde es ja ganz schoen
"abgehen".
schoen. danke!
er sagte aber auch: grime wuerde in berlin nicht funktionieren.
ja?
spass gemacht hat auch:
"tiefseetaucher" - am besten OMU
witzig, vielschichtig, verwirrend. irgendwo zwischen realitaet und fiktion angesiedelt, leise abrechnung
mit allem, was sich da drausssen reality tv schimpft. konkrete auseinandersetzung mit den mechanismen der filmindustrie. locker und leicht erzaehlt, alle klischees der welt inszeniert und dabei soviel spass gehabt, dass man selbst ueber den deutschen in lederhosen lachen kann.
und alles in einem dermassen durchgestyltes set design - dass die klischees gleich wieder verblassen.
endlich mal wieder ein film , der mich euphorisch aus dem kino gehen liess.
check it out
Posted by jay-oh at 03:55 PM
March 17, 2005
Kinzo Crazy
tomorrow we go kinzo.
lady sovereign will be with us
hey anybody who saw grime IV should come by and check out the kachelkammer at kinzo - karl liebknecht strasse something - directly unter mc donalds am berlin quaree.
wir probieren mal neue mp3´s ueber das limitierte soundsystem zu quetschen und wenn der bass nicht rollt, dann muesst ihr mit den fuessen trampeln. fuer den bauch effekt mein ich.
wir spielen dann brav ein bisschen mehr vinyl und schicken euch von berlin nach london ueber mallorca nach miami und von da in den brasilianischen dschungel. aus adbissigen kreisen wurde mir zugetragen, dass baille funk total im kommen ist, und, dass die das schon lange koennen, was m.i.a. hierzulande gerade in die (groove) charts bringt. rip in peace.

Posted by jay-oh at 12:14 PM