« August 2007 | Main | October 2007 »
September 26, 2007
it´s 1984 and nobody has noticed
i was at a protest march on saturday. not that this is smth special.
and yes AD and i usually don´t use this medium to blab about personal things, however. when doing research yesterday i found nobody who wrote about the protest against the new german security laws that are discussed these days. the state wants to put its citizens under surveillance, check and store all personal data, including telephone connections and short messages, health reports and social security data, credit card reports, emails, internet connections, personal data and more - for over half a year. and not only if you count as suspect, but from every single person. there will be no more "schweigepflicht" for doctors or lawyers, as all your data is stored on your health insurance cards, for everybody to check.
well again - i didn´t want to start blabbing, what i really wanted to say was that i was trying to find smth about this on the news. there were 15.000 people but i couldnt find any paper that found it worth writing about. thats why i felt the urge to at least say smth: there were people that got injured by police violence standing right beside me, while protesting peacefully. there was blood , teargas and pepperspray. the cops used their clubs on teenagers.
they aggressively went into the people demonstrating and started beating single people up, provoking aggression. trying to escalate. the black block got beaten up like shit but still behaved - which was amazing to see - and just stopped the demonstration. whilst that the police was filming everybody attending the march for their records."potentielle unruhestifter". maybe the sick girls will need to change their names.
Posted by jay-oh at 01:40 PM | Comments (0)
September 17, 2007
THURSDAY IS FOR WINNERS!
YOYO - WE WANT YOU TO WIN!
KANO WILL PLAY LIVE ON THURSDAY FOR OUR HUGE
INRO INTIM - REVOLUTION N°5 - GRIMETIME NIGHT.
AND THAT'S WHY WE GOT SOME GOODIES FOR YOU:
2 X LONDON TOWN ALBUM CD
3 X THIS IS THE GIRL 12" VINYL
2 X 2 FREE ENTRY TO FESTSAAL ON THE 20TH!
JUST ANSWER THIS QUESTION:
WHO COULD BE THE SECRET GUEST STAR WHO WILL PERFORM
WITH KANO ON THURDSDAY? A LIL' HINT:
BO SELECTA!
MAIL YOUR ANSWER AND YOUR GIFT CHOICE TO: adbiz@sickgirls.de
and don't forget:
BLITZ 'N ASS
JAHCOOZI ALBUM RELEASE
&
KANO - LONDON TOWN SHOWCASE
DONNERSTAG 20.09.07
FESTSAAL KREUZBERG
23h
präsentiert von
INTRO INTIM & REVOLUTION N°5 & GRIMETIME
featuring:
JAHCOOZI live (a sound / bln)
KANO live (679 rec. warner / ldn)
SICK GIRLS (violent turd, rev. n°5 / bln)
FAGGATRONIX (bok bok / ldn)
+ special GRIMETIME floor:
DJ DOWNSHISFTER (skud, hyponik / ldn)
& MC NIKA D (virus syndicate, planet mu / manchester)
DJ EARGEL (rap.de / bln)
Festsaal Kreuzberg, Skalitzer Str. 130, BLN-Kreuzberg
myspaces:
jahcoozi
kano
sickgirls
faggatronix
dj downshifter
mc nika d
presented by: rap.de

Posted by ad at 09:57 AM | Comments (0)
September 10, 2007
ULM! WHAT IT DO? WHAT IT DO?

wow kids! what a hell of a party on saturday night in ulm.
delicious. fabulous. power power.
you definitely rocked, you crazy mofos!!
big up to DANIEL, MC MANKIND and all
the cute hotties on the dancefloor.
that can't have been our last time there...
love
sg

Posted by ad at 09:29 AM | Comments (0)
September 08, 2007
UNTER ULMERN
off we go to ulm in the jolly south of germany today!
you are in the area?
come down to EDEN CLUB then and join us there...
xx
Posted by ad at 12:53 PM | Comments (0)
September 06, 2007
SPREAD IT LIKE A MOTHAF****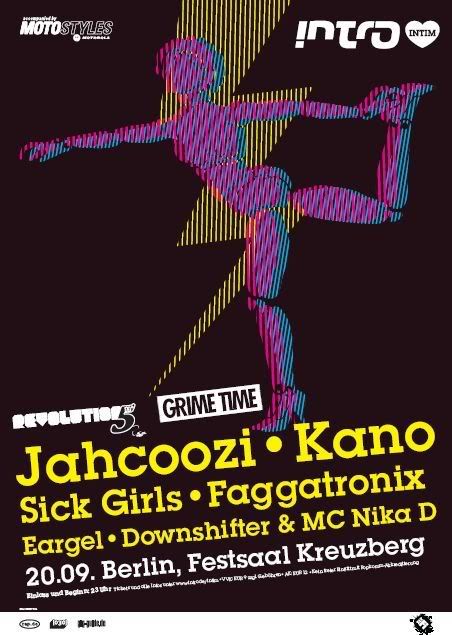 THATS A THURSDAY PEEPZ!
TELL YOUR BOSS YOU WONT BE AT WORK ON FRIDAY.
AND SPREAD IT!
KEEP ON CHECKING THIS SITE - THERE WILL BE GOODIES TO GET!
SEE YA ON THE 20TH
HUGS
SG

Posted by ad at 10:09 AM | Comments (0)