« March 2007 | Main | May 2007 »
April 25, 2007
german lesson no one
heute mal in der mutter-sprache, fuer alle die sich hin und wieder ueber lokal-patriotismus freuen, damit sie hinterher ihre anglizismen-freudigkeit munter weiter ausleben koennen. wir haben uns sehr gefreut. nicht ueber die anglizismen oder die mutter aller sprachen sondern ueber das hier. merci mercedes!
well-come again!
Posted by jay-oh at 11:50 AM | Comments (0)
April 12, 2007
BRING 4TH YA BOOTY!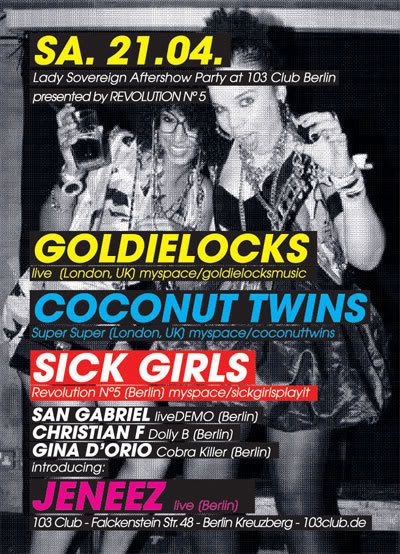 Posted by ad at 10:46 AM | Comments (0)
April 04, 2007
go check
4.04.07 Tonight: one sick girl at NBI - Berlin Hilton come support : 1:00 to 3:00
6.04.07 spektrum - the damn best postrock dance band in the world at 103

danach bitte keinen osterschokoladenzuckerbreakdown haben und schoen auf mit dem zug nach holland. pre-munchies...
13.04.07 sickgirls at flexbar amsterdam.
Posted by jay-oh at 12:55 PM | Comments (0)
April 01, 2007
IN YA FACE
Posted by ad at 11:21 AM | Comments (0)