« February 2007 | Main | April 2007 »
March 29, 2007
Mon ami - Mi ami
je suis retournee.
back from notoriously hysterical Winter Music Conference to stoically tuned down Berlin.
faux fake to fake real.
If Sonar does it for Europe, WMC serves american nature. or nurture?
all the Eds (France), Mandys (Berlin) and Shadys (Germany/Austria?) go superstar with gogos and their european buddies cranking bottle service in the VIP. techno heaven, here we come.
Except for Robert Zayas probably, who fucked everybody like-suit-wise no matter if they gave him Hell. Tiefschwarz or Ellen Allien. he just took the money and ran. so kids better be aware - they´re criminals.

If not for AL Haca, Stereotyp and this other guy, Winter Music Conference definitely set up a program cocktail Berlinese - people, we are the spoiled capital of minimal techno. But america has Naomi Smart.
oh - since i´ve been to Hell i also found Jesus. and let me tell you this: he lives in New York.
the question remains if they really dye the ocean up there in FL.
Posted by jay-oh at 11:34 AM | Comments (0)
March 14, 2007
BASS THE WORLD
BEST BASS THE WORLD EVER!
GO!

Posted by ad at 10:03 AM | Comments (0)
March 08, 2007
BLENTWELL RULES!
sick girls heart mr. blentwell who calls our last mix
a future classic. that goes down like hot butterscotch.
go get the latest blentcast done by your devoted sick girls here.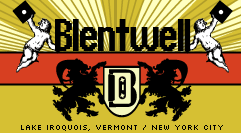 download & dance
Posted by ad at 10:39 PM | Comments (0)
March 05, 2007
VROUMMMMM!
killer track from killa kela!
Posted by ad at 01:33 PM | Comments (0)
REVOLUTION PICS ALERT!
thank you so much for sending in some pics:
big up to the lovely ALIA and the great GERMAN WASTEMAN!
the berlin wall.


chain twins massacre.


teens of thailand mixery.


looove.


hail the coconut twins.


our beautyful crowd.

Posted by ad at 12:41 PM | Comments (0)
March 02, 2007
boink
value="true">

Posted by jay-oh at 02:15 PM | Comments (0)