February 10, 2009
this is whats happening now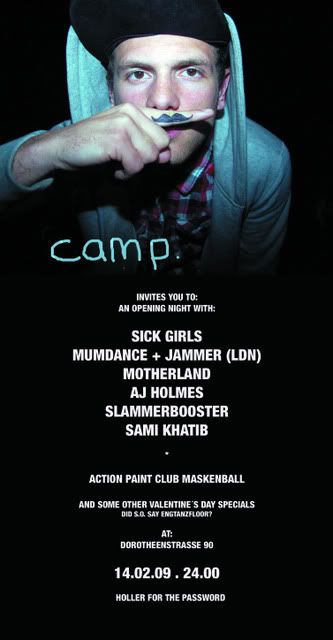 Posted by jay-oh at 04:01 PM | Comments (0)
February 06, 2009
REVOLUTE SOMEWHERE ELSE!
We just got some not so nice news!
The new WMF club has to close its doors temporarily to put some more
work into construction and things, Bauamt pleasure, you know.
It will be back in March so watch out!
According to this Revolution no 5 will not take place
at WMF on the 14th.
we HIGHLY recommend you to keep your eyes open and look out
for flyers, myspace and facebook, the 14th is still on the map -just somewhere else!!!
safe the date!
xo sg
Posted by jay-oh at 06:17 PM | Comments (0)
February 04, 2009
Pretty Valentine
here is what your valentine will be this year,, because we love yáll so much, we loaded our venue with the newest shit in music. to give all you lovers out there something special.
from hot tropical to a big bass grime mc , sweaty sexy disco, electric ecclectic blinding bouncing big bad ass sounds from your truly sick girls and their oh so fabulous guests. HAH , we´re proud to be back in this city with our mindblowing format revolution no5 , noone can do it like we do.
Posted by jay-oh at 02:45 PM | Comments (0)
February 02, 2009
THE REVOLUTION is back !!!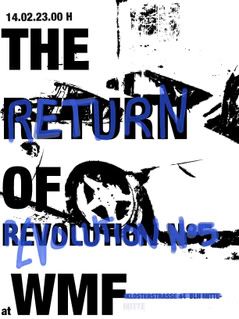 Posted by jay-oh at 06:55 PM | Comments (0)
some pics at last
we havent been up here a lot
so here´s a couple pics to satisfy some need for more sick girls input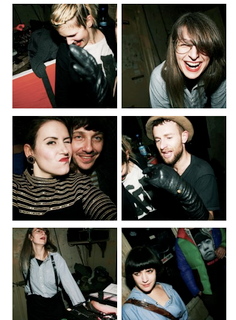 and a warning:
the revolution is BACK!!!!
14.02. at WMF
Posted by jay-oh at 02:49 PM | Comments (0)